Confirmation at St. John's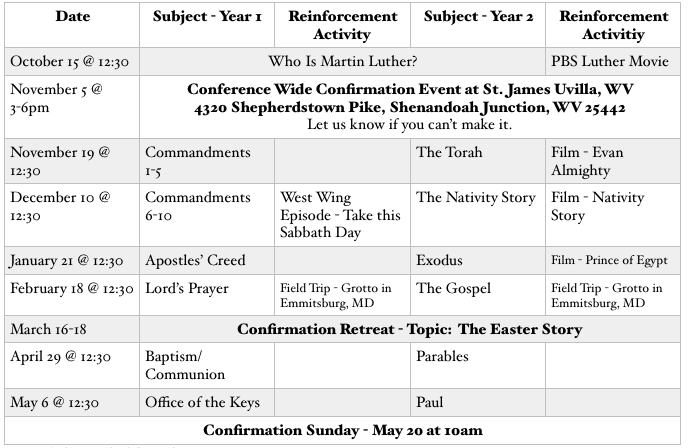 As parents, you were entrusted with certain responsibilities at baptism. The rite of Baptism from the Lutheran Book of Worship reads:
In Christian love you have presented these children for Holy Baptism. You should, therefore, faithfully bring them to the services of God's house, and teach them the Lord's Prayer, the Creed, and the Ten Commandments. As they grow in years, you should place in their hands the Holy Scriptures and provide for their instruction in the Christian faith, that, living in the covenant of their Baptism and in communion with the Church, they may lead godly lives until the day of Jesus Christ.
With that in mind, confirmation is the opportunity to help your child BEGIN that instruction. Confirmation is more than just learning but is a time for spiritual development, faith development, and recognition of the community of St John's and the larger church. To help facilitate this, we use a practice called catechetical study or simply Confirmation. This style of teaching was used by the early church in welcoming new believers into the church.
The first year (typically attended by 8th graders but is not limited) will focus on the Small Catechism written by Martin Luther. Luther saw the Catechism as a daily devotion for all Christians in their faith life. We will work our way through the Small Catechism diving into the deeper meaning of the 10 commandments, the Creed, the Lord's prayer, and the sacraments.
The second year, taught by myself, will focus on Biblical study and learning how to read the Bible. It will require learning how to interpret a passage and how a particular passage fits into the larger narrative. Don't worry, it all sounds daunting but this is just the start of their instruction—they have years to master all of of this.

Each year, there will be a retreat held in the spring time that all confirmands should plan to be present at.
Confirmation is more than just a time of learning but is also a time of relationship building. At each class session we will play games to start each gathering, we will share our joys and concerns, and we will do fun things as well, but participation in the process is a must for this all to happen. Confirmands need to attend worship at least once a month either at St. John's or another congregation. It would also be well for each confirmand to get active in at least one church ministry such as:
Acolyting/Crucifer
Assisting at the Altar (lead prayers of intersession, assist with communion, etc.)
Reader for worship
Serve on a babysitter for All Committee Night
Serve on a church committee
Choir
Teach in Sunday School
Help with some office tasks
Materials needed for Class
A Bible (No KJV or Paraphrased translations such as the Message). We will provide one!
Luther's Small Catechism (Don't worry, we will provide this too)
A notebook
Expectations
We do not like having requirements because it goes against our doctrine of grace. However, confirmation is not possible unless everyone involved (both parents, students, and teachers) participate in as many activities of our program as possible.
Attend class when possible. Life happens and there will be times when you can't make it to class, just don't make it a habit.
The Confirmation Retreat is important and, in my mind, a requirement for everyone. Please mark the weekend on your calendars.
Bring your books!
Be on time.
Participate in class discussion.
Participate in the life of the church. We like to see weekly attendance at worship but we also know that this is not possible. So once a month, try to be at church. Confirmands should also get involved in worship a little bit more. We will schedule them and let you know the dates.
Parents, we ask that you be open to talking to your children about what they learn. Ask questions and encourage them to share their point of view. You are their role models when it comes to faith so don't be shy in sharing your faith with you children.
Please note: if church services are not held due to inclement weather, then confirmation classes will not be held either. If bad weather begins after church services, we will call you if class will be shortened/cancelled. Otherwise, please assume class will be held.